Maison Thibierge Paris interviewed Mariela Arismendi, a passionate calligrapher. She tells us about her job, writing but also about her relationship with paper.
Being a calligrapher is to create an artistic and expressive style in an ink plot. Calligraphy makes possible to create texts with a unique aesthetic. Calligraphy is like a kind of meditation where you only depend on your hand, a piece of paper and ink.
"Since the youngest age, I have loved writing"
I have always loved letters and their beautiful shapes, the proportions between ascending and descending, straight lines and curves ... Since the youngest age, I have loved writing and scribbling letters. In pre-school, my teacher may have passed on this love to me ... I liked to sharpen my pencil, smell it and copy the letters of the alphabet. After the words, ... I felt being very important. Later, in college, I had an extraordinary master teacher who made us prepare the day before the exams, the sheets with the calligraphed titles. We had a little book with several types of letters and that amused me a lot ... During a summer, far from my family, I bought myself a Sheaffer pen to write. It was sold with a template of alphabet in cursive letters. I spent long days practicing and writing letters.
After my secondary education, I studied graphic design. My favorite class was typography - always the letters - but calligraphy always came back as an obsession. One day, the director of the university who was a graphic designer, offered me to work for him and to do the calligraphy of diplomas. Later, many of my friends for their wedding, wanted their wedding announcement in calligraphy, less traditional than the round hand typo of their grandmother. In short, it was my first work ... The director pushed me not to take for granted my skills and to think of calligraphy as a mode of expression, as an art.
"Create real monograms"
I usually work at home on a large table. I like the freedom to depend only on my hand, ink and paper. I like doing simple things ... An invitation for a fashion show or an exhibition, a menu for a private dinner, or a poem. I also create real monograms by assembling the initials of the bride and groom.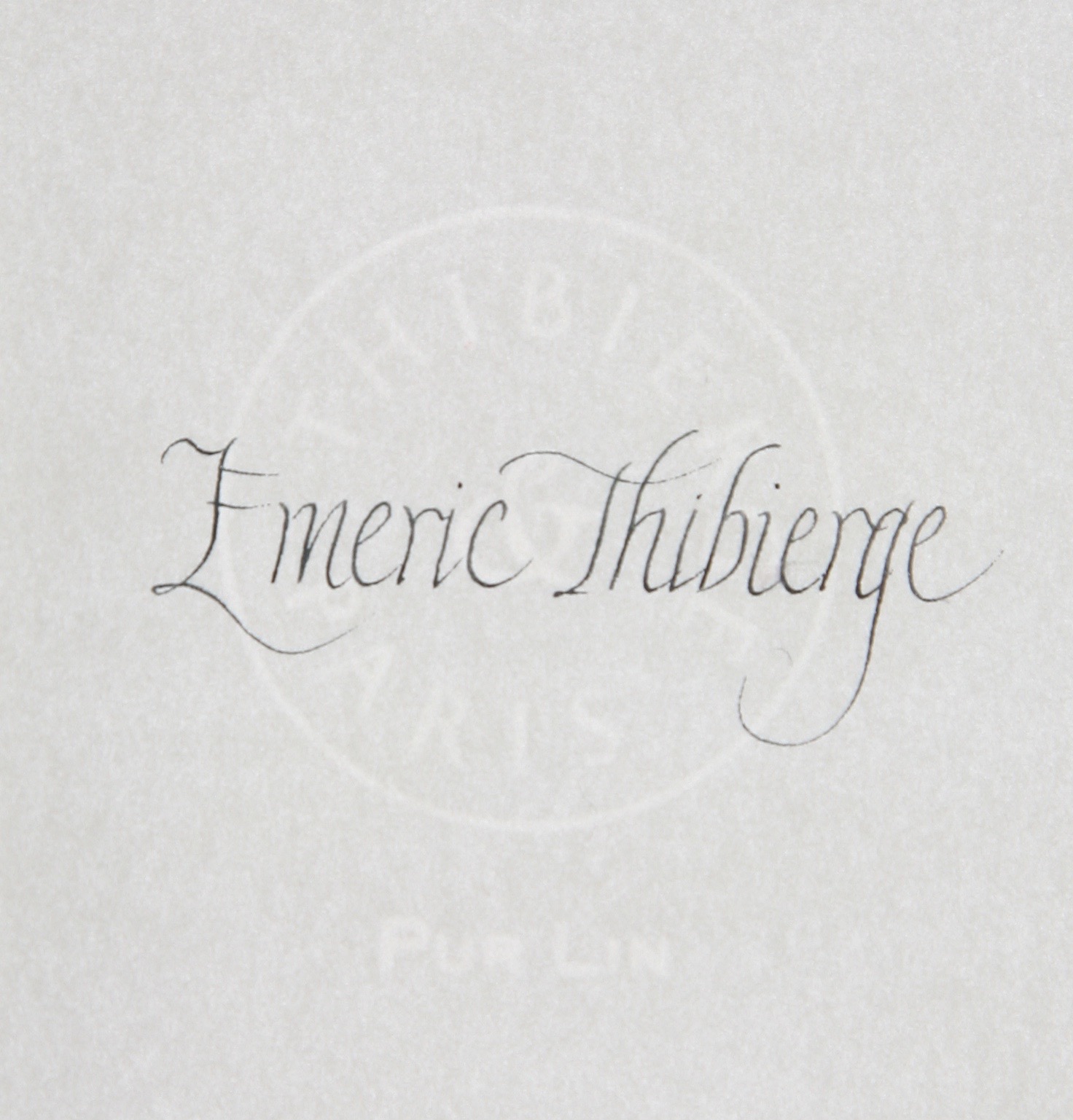 Thibierge Paris inner booklets personalised by Mariela Arismendi
I have real goose feathers and bamboo reed pens, but I prefer my wooden penholder for which I choose a pen depending on the work to be done, whether it is thin, wide, flexible, hard, pointed or beveled.
For my pen, I use Chinese ink. However, it requires time to use it because lines contain more ink than a fountain pen or a ball pen, so the drying time is longer. If I do not have enough time, I use a fountain pen. Finally, I sometimes use a felt pen for some of my work when I write on large envelopes, on posters, or when I want the letters to be bigger. The line is easier to draw and more casual.
Usually, I use my own style, a rather cursive writing that was born after years of copying humanistic calligraphy (the round and vertical writing style adopted by the humanists during the Renaissance). However, I can also use italic writing, chancery hand, round hand, script or a writing with a brush effect.
Calligraphy patterns drawn with a very fine point Japanese felt pen.
Writing styles inspired by the Chancery hand's style:
1. Italic normal letter body
2. More condensed and greater italic letter body
3. Romanesque normal letter body
4. Stretched capital letter
5. English and French mix cursive style
"The more beautiful the paper is, the more I want to write better"
Of course, paper is the support and the foundation of quality work. Therefore, it is especially important. It has to be adapted to the chosen technique and made with high quality standards. That is a paper with a fine grain that does not fuse, in which the ink does not bleed, but which ensures good absorption of the ink. Paper is a noble and living material that arouses emotions.The more beautiful the paper is, the more I want to write better.
I never thought about a carnal relationship with paper. However, the choice of a paper reflects the personality of each people: the choice of a paper for business cards, the choice of a paper for a wedding, etc. Paper is a sublime material that contains our ideas, feelings and thoughts.
I like calligraphing on a paper with a homogeneous surface, which ensures a good absorption of the ink. When the letters are very small because I use a very sharp metal pen, a smooth surface is essential. Otherwise, I use a paper with a soft texture. When I use a paper with a more pronounced texture, the pen can get stuck in it and we risk damaging all the work because the ink leaks on the paper. In this case, I use markers. The more the paper has a pronounced texture, the more we get an effect on the lines.
Calligraphy on Thibierge paper
"We are carried away in a sensation of absolute freedom"
This linen fibre paper used for Carnet Thibierge is incredibly soft. The way the hand slips while writing is a real marvel. It seems as if we are carried away in a sensation of absolute freedom when the pen slides on Thibierge paper, so smooth and so light. The ink flows smoothly, you can write very easily and in all directions. Thibierge paper is like the skin of a newborn baby. From the first time I used it, I was fascinated by its exceptional lightness.
"Writing is a true fingerprint"
Nothing can replace the gesture, the spontaneity, the sincerity it gives of ourselves, the identity expressed by handwriting on paper. Writing is a true fingerprint. It speaks about our personality, for example, if we are reserved, we are more likely to form small letters. Or according to the pressure applied on the pen, the line will be more or less fine, and we can say if we are more or less delicate. The way of writing makes us unique.
I think you have to cultivate both skills but there is proven fact that children learn faster when they write by hand because it stimulates their brain, just like doing sports and stimulates muscles. It is necessary to synchronize the movement of the arm and the hand with the breath and for that, we need a great capacity of concentration. To write well we have to keep a good physical posture and a balance. It strengthens the body. The more you practice it, the more you manage to control it and acquire your own style. This develops harmony, fluidity and reflection to arrive at the most beautiful writing style. There will always be thank-you letters, a word of love, wedding invitations, wedding booklets. All the important things we do not want to forget, we will continue to write them by hand on a piece of paper.
"The silence between the notes is as important as the notes themselves"
You have to copy a lot to exercise your hand to find your own style. You have to start with simple letters like italic letters. You have to cultivate patience, calm and the breathing rate to get to draw beautiful regular letters. We must work on the structure of each letter and on the spaces.
The appropriate space between each letter contributes to the readability of a word. It is necessary to keep a proportion between the size of the letters and the size of the spaces to cultivate a steady pace between the words. This creates the beauty of writing. Mozart said "Silence is very important. The silence between the notes is as important as the notes themselves. "
Paris, May 6th, 2019
Mariela Arismendi